Tree Cabling & Bracing for Athens GA & Watkinsville GA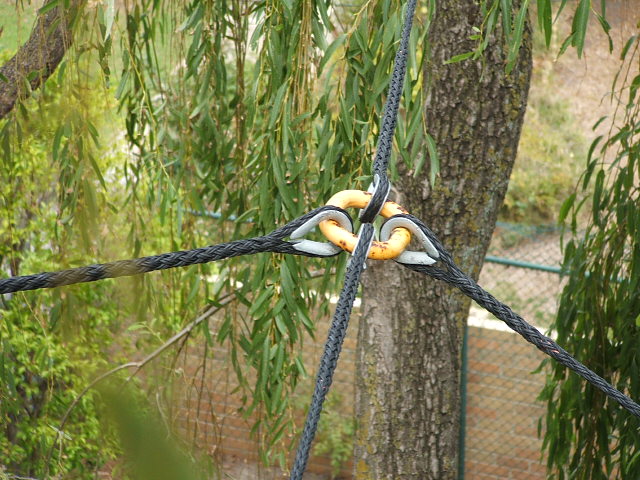 At Porterfield Stump and tree we are devoted to the preservation of Athens and Watkinsville Trees. This sincere passion of our is evident in the work that we are able to do through bracing and cabling. Trees that are so often seen as lost causes and are cut down, we find ways to support and preserve them. This allows them to grow into safe productive trees that add value to our local neighborhoods.
Cabling and bracing techniques provide strengthening and redirection of trees that may be damaged or may be encroaching on a structure. At Porterfield Stump & Tree, we have a wealth of skills and experience in these areas.
In some cases, a tree may need to be cabled, for example, when getting to close to a house or walkway. Over time, sections of trees can weaken and require the need to be braced to support various limbs, or even the trunk itself. Many double-forked or multi-stemmed trees require cabling to improve their strength and stability.
Using the proper methods of cabling and bracing employed by Porterfield Stump & Tree can allow trees to endure years longer than they may otherwise have.
Safety Hazards & Our Approach
Trees that are structurally unsound or have been damaged by lightning or wind very quickly become safety hazards to your home, property and family. At Porterfield Stump and tree we put the responsibility of safety first. We want to ensure that the trees on your property create a safe peaceful environment. Our cabling approach will ensure that you can feel secure about your yard.
We do our best to create cabling and bracing systems that are not easily seen from the ground and won't create an eye soar on your property. We understand that each tree is different and we use custom cabling and bracing techniques to best support your particular tree and situation.
Tree Cabling & Bracing Won't Damage Your Trees
At Porterfield Stump and Tree the cabling and bracing systems we use in no way causes harm or does any damage to the tree. They take pressure and strain off branches that are under too much stress and insure that they are properly supported. This helps guarantees that the tree will no longer be a safety hazard.
Porterfield Stump and Tree is known throughout the Athens Watkinsville area as the fields leading expert on cabling and bracing. We have been able to save hundreds of local trees from being damaged or removed by employing our exclusive cabling and bracing techniques.
Porterfield Stump and Tree is the very best in the Watkinsville, Athens area at tree cabling and bracing. Call today to get a free appraisal for your property's needs!
Frequently Asked Questions (FAQs)